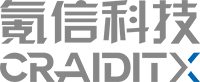 Founded in December 2015, Shanghai CraditX Information Technology Co., Ltd. (hereinafter referred to as "CraditX") is one of the earliest artificial intelligence companies engaged in the layout of financial risk control business in China. The company is committed to applying CraditX AI engine and global knowledge map to take the lead in integrating the knowledge system and practical experience polished in large-scale financial scenario to facilitate financial institutions upgrade their business, realize user value amplification, strengthen risk control and improve operation efficiency. CraditX provides customers with one-stop AI intelligent financial engine, cloud-based CraditX financial credit risk portrait service and SDK intelligent risk control product X-Behavior, which is based on CraditX's original behavior language processing (BLP) technology. In addition to standardized products, CraditX also provides customized intelligent business transformation consulting services for financial institutions, covering a full range of business and modeling consulting services such as intelligent risk control, intelligent customer acquisition, intelligent marketing, intelligent operation, intelligent customer service, etc. CraditX has carried out in-depth cooperation with hundreds of financial institutions at the business level, and the solutions have been successfully implemented in benchmark customers such as China Merchants Bank, Minsheng Bank, Ping An Securities, Bank of East Asia, MUCFC consumer financial, Bank of China Consumer Financial and Weshare Finance.

The abundant functions of AWS cloud services, especially the proven solutions in storage and security management, enable us to complete the development and deployment of the core product X-Behavior in only one month, thus seizing the opportunity of rapid business development.

Wan Jing

Technology partner of Shanghai CraditX

Challenges
CraditX is a start-up financial technology company. Like most startups, CraditX had to deal with various challenges in the initial stage, including how to develop the prototype system as soon as possible, carry out testing, realize rapid iteration, and finally complete the deployment of the production system.How to control cost effectively?How to ensure the security, reliability, stability and scalability of the system?The cloud platform is the best choice to cope with these challenges, therefore, CraditX selected Cloud at the beginning of establishment and place its product development and deployment on the cloud.
In the middle of 2017, CraditX prepared to develop the SDK intelligent risk control product X-Behavior based on its original BLP. This is a set of product integrating user mobile device behavior collection and complex behavior language processing technology, and finally provides customers with credit risk assessment. X-Behavior is designed to adopt a large number of data during operation, and simultaneously, filter these data in real time, which not only needs to build a huge database system, but also special database O&M personnel for maintenance. This is a huge challenge for CraditX. If it builds the database system independently, the development cycle will increase to 6 months, and it is also difficult to ensure the reliability and stability of the system. "Therefore, we conducted relevant research at the beginning of product development, and found that products with similar requirements abroad use Amazon Simple Storage Service (Amazon S3)&nbsp of Amazon Web Services (AWS) to solve this problem. So we tried, and it proved that Amazon S3 could perfectly meet the requirements of X-Behavior for data storage and data management, " said Wan Jing, a technology partner of CraditX. From then on, CraditX moved the R & D and deployment of its products to AWS gradually, including the R & D of CraditX AI intelligent engine, natural language processing, testing and production environment of new intelligent investment and research. X-Cloud, the production and testing environment of CraditX's public cloud data service product, and X-Behavior, public cloud SDK product also ran on AWS.

Why AWS?
AWS is advantageous in abundance and maturity, and owns kits that can be seamlessly connected with most open source tools. The comprehensive security management and diversified billing modes are very suitable for enterprises with rapid business growth and high requirements for development and deployment effectiveness like CraditX.

Abundant development kits

Comprehensive security management
Abundant development kits

"As a start-up company with limited human resources, CraditX has to fully invest in the development of core products in order to seize the best time window for the product launch. Therefore, the abundant development kits of AWS reduces our necessity to pay attention to the underlying infrastructure, so as to greatly shorten the development cycle of core products. Amazon S3 has played a crucial role in the development process of CraditX's core product X-behavior, " said Wan Jing. Amazon S3 is an object store that can be used to store and retrieve any amount of data anywhere on the web at any time, which can provide a persistence up to 99.999999999%. Most importantly, Amazon S3 provides a complete set of REST API and software development kit, which can be easily integrated with the third-party technology. This enables CraditX to directly call Amazon S3 during the development of X-Behavior to realize the requirements of the entire business system for storage management, and to achieve the perfect integration of Amazon S3 and X-Behavior. It took only 1 month to successfully complete the development and deployment of X-Behavior, thus seizing the opportunity of business development. In addition, Amazon S3 charges by use capacity, without any hidden or over-capacity charges, and thus well meets the demand of CraditX for cost control.


Comprehensive security management

CraditX provides services for financial enterprises. The security of systems and data is not only the focus of CraditX, but also the most concerned problem of customers. Compared with other cloud platforms, AWS provides a more comprehensive guarantee in the aspect of security. In order to ensure the security of the data center, AWS has taken a series of measures: Firstly, the security standards of AWS are globally consistent, and line with the certification and regular continuous certification of all countries and institutions around the world; Secondly, in terms of data security, AWS is based on the responsibility sharing model: AWS is responsible for the security of infrastructure at the bottom layer, and its customers are responsible for the application security – AWS never touches the security at the application layer; Thirdly, AWS provides AWS Identity and Access Management (IAM)and other security management functions for users to conduct security management and control according to their own demands. Taking the Amazon Virtual Private Cloud (Amazon VPC) used by CraditX in product development as an example, users can easily preconfigure a logically isolated part in AWS cloud, so as to initiate AWS resources in their own defined virtual network. This mode enables users to customize the network configuration of Amazon VPC, such as creating a public sub-net for a web server to access the Internet, and placing back-end systems like database or application server in a private sub-net cannot access the Internet, or using multiple security layers like as security groups and network access control lists to Amazon Elastic Compute Cloud (Amazon EC2) instances. At the application level, users only need to call Amazon VPC to implement security protection at this level, while at the infrastructure level, Amazon VPC is implemented through AWS multi-level security protection, including Internet Gateway control, internal control, external firewall outside the server, firewall at the operating system level, etc. This means that users can enjoy the comprehensive security protection provided by AWS just with a simple call. In addition, AWS's multi-AZ design also greatly improves the usability of the user system. "Our database system is based on Amazon Relational Database Service (Amazon RDS), and AWS's Availability Zone design enables our core database to automatically perform real-time data redundancy backup, thus greatly improving the availability of the database," " said Wan Jing.

Achievements
The R&D and deployment of business systems of CraditX are partially carried out on AWS, while Amazon S3 is applied to X-Behavior for storage and management of massive data. CraditX's cloud services include Amazon EC2, Amazon S3, Elastic Load Balancing, Amazon CloudWatch, Amazon RDS, IAM, Amazon ElastiCache, Amazon VPC, Amazon Route 53, Amazon Simple Notification Service (Amazon SNS) and other cloud services are respectively located in AWS China (Beijing) region operated by SINNET and AWS China (Ningxia) region operated by NWCD. Figure 1 is a schematic diagram for architecture of CraditX's use of AWS Cloud Services.

Figure 1 Systematic Diagram for Architecture of CraditX's Use of AWS Cloud Services
The biggest benefit of using AWS for CraditX is that it is able to launch new products required by customers quickly, seize market opportunities timely and promote the rapid development of business. For example, with CraditX's X-Behavior, if AWS is not used, product development alone will take half a year, while with Amazon S3, Amazon RDS and other functions provided by AWS, CraditX has completed product development and deployment within one month. Secondly, AWS provides extremely high security and reliability at the infrastructure level, which enables CraditX to guarantee the security and reliability of the whole system only by focusing on solving the application level problems in the product development. Thirdly, saving the cost for use of resources and the cost for operation and maintenance. AWS can adjust computing resources on-demand according to changes in business volume, and can also support explosive growth in the short term. In peak period, the QPS of CraditX's X-Behavior will increase by more than 10 times. The elastic expansion of AWS can effectively support this peak flow. In addition, CraditX selected the reserved instances of AWS for predictable stable business, which greatly reduced the cost of resource use. In terms of operation and maintenance, CraditX made full use of the monitoring and automatic management functions of AWS, and did not have to arrange full-time personnel to be responsible for operation and maintenance, which greatly saved the labor cost.

For more information about how AWS can help financial customers to innovate, please visit the Financial Services Details page.