Amazon Web Services
AI Shanghai Lablet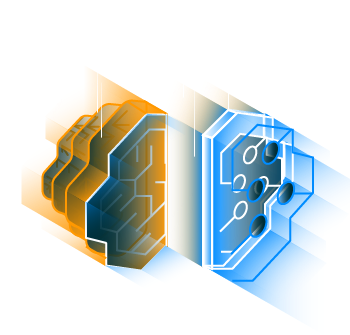 Publications
Deep Learning Infrastructure
Graph Deep Learning
Graph Deep Learning
Qitian Wu, Wentao Zhao, Zenan Li, David Wipf

Graph neural networks have been extensively studied for learning with interconnected data. Despite this, recent evidence has revealed GNNs' deficiencies related to over-squashing, heterophily , handling long-range dependencies, edge incompleteness and particularly, the absence of graphs altogether. While a plausible solution is to learn new adaptive topology for message passing, issues concerning quadratic complexity hinder simultaneous guarantees for scalability and precision in large networks.In this paper, we introduce a novel all-pair message passing scheme for efficiently propagating node signals between arbitrary nodes, as an important building block for a pioneering Transformer-style network for node classification on large graphs, dubbed as N ODE F ORMER. Specifically, the efficient computation is enabled by a kernerlized Gumbel-Softmax operator that reduces the algorithmic complexity to linearity w.r.t. node numbers for learning latent graph structures from large, potentially fully-connected graphs in a differentiable manner. We also provide accompanying theory as justification for our design. Extensive experiments demonstrate the promising efficacy of the method in various tasks including node classification on graphs (with up to 2M nodes) and graph-enhanced applications (e.g., image classification) where input graphs are missing. The codes are available.
Graph Deep Learning
Hongjoon Ahn, Yongyi Yang, Quan Gan, David Wipf, Taesup Moon

Heterogeneous graph neural networks (GNNs) achieve strong performance on node classification tasks in a semi-supervised learning setting. However, as in the simpler homogeneous GNN case, message-passing-based heterogeneous GNNs may struggle to balance between resisting the oversmoothing occuring in deep models and capturing long-range dependencies graph structured data. Moreover, the complexity of this trade-off is compounded in the heterogeneous graph case due to the disparate heterophily relationships between nodes of different types. To address these issues, we proposed a novel heterogeneous GNN architecture in which layers are derived from optimization steps that descend a novel relation-aware energy function. The corresponding minimizer is fully differentiable with respect to the energy function parameters, such that bilevel optimization can be applied to effectively learn a functional form whose minimum provides optimal node representations for subsequent classification tasks. In particular, this methodology allows us to model diverse heterophily relationships between different node types while avoiding oversmoothing effects. Experimental results on 8 heterogeneous graph benchmarks demonstrates that our proposed method can achieve competitive node classification accuracy.

Graph Deep Learning
Yongyi Yang, Zengfeng Huang, David Wipf

Deep learning models such as the Transformer are often constructed by heuristics and experience. To provide a complementary foundation, in this work we study the following problem: Is it possible to find an energy function underlying the Transformer model, such that descent steps along this energy correspond with the Transformer forward pass? By finding such a function, we can reinterpret Transformers as the unfolding of an interpretable optimization process across iterations. This unfolding perspective has been frequently adopted in the past to elucidate more straightforward deep models such as MLPs and CNNs; however, it has thus far remained elusive obtaining a similar equivalence for more complex models with self-attention mechanisms like the Transformer. To this end, we first outline several major obstacles before providing companion techniques to at least partially address them, demonstrating for the first time a close association between energy function minimization and deep layers with self-attention. This interpretation contributes to our intuition and understanding of Transformers, while potentially laying the ground-work for new model designs.

Graph Neural Network Applications
Graph Neural Network Applications
Jian Yao, Yuxin Hong, Chiyu Wang, Tianjun Xiao, Tong He, Francesco Locatello, David Wipf, Yanwei Fu, Zheng Zhang

Amodal perception requires inferring the full shape of an object that is partially occluded. This task is particularly challenging on two levels: (1) it requires more information than what is contained in the instant retina or imaging sensor, (2) it is difficult to obtain enough well-annotated amodal labels for supervision. To this end, this paper develops a new framework of Self-supervised amodal Video object segmentation (SaVos). Our method efficiently leverages the visual information of video temporal sequences to infer the amodal mask of objects. The key intuition is that the occluded part of an object can be explained away if that part is visible in other frames, possibly deformed as long as the deformation can be reasonably learned. Accordingly, we derive a novel self-supervised learning paradigm that efficiently utilizes the visible object parts as the supervision to guide the training on videos. In addition to learning type prior to complete masks for known types, SaVos also learns the spatiotemporal prior, which is also useful for the amodal task and could generalize to unseen types. The proposed framework achieves the state-of-the-art performance on the synthetic amodal segmentation benchmark FISHBOWL and the real world benchmark KINS-Video-Car. Further, it lends itself well to being transferred to novel distributions using test-time adaptation, outperforming existing models even after the transfer to a new distribution.

Graph Neural Network Applications
Yijia Zheng, Tong He, Yixuan Qiu, David Wipf

Although the variational autoencoder (VAE) and its conditional extension (CVAE) are capable of state-of-the-art results across multiple domains, their precise behav ior is still not fully understood, particularly in the context of data (like images) that lie on or near a low-dimensional manifold. For example, while prior work has suggested that the globally optimal VAE solution can learn the correct mani fold dimension, a necessary (but not sufficient) condition for producing samples from the true data distribution, this has never been rigorously proven. Moreover, it remains unclear how such considerations would change when various types of conditioning variables are introduced, or when the data support is extended to a union of manifolds (e.g., as is likely the case for MNIST digits and related). In this work, we address these points by first proving that VAE global minima are indeed capable of recovering the correct manifold dimension. We then extend this result to more general CVAEs, demonstrating practical scenarios whereby the conditioning variables allow the model to adaptively learn manifolds of varying dimension across samples. Our analyses, which have practical implications for various CVAE design choices, are also supported by numerical results on both synthetic and real-world datasets.

Graph Neural Network Applications
Tianyue Cao, Yongxin Wang, Yifan Xing, Tianjun Xiao, Tong He, Zheng Zhang, Hao Zhou, Joseph Tighe

We propose a practical open-world representation learning setting where the objective is to learn the representations for unseen categories without prior knowledge or access to images associated with these novel categories during training. Existing open-world representation learning methods make assumptions, which are often violated in practice and thus fail to generalize to the proposed setting. We propose a novel progressive approach which does not depend on such assumptions. At each iteration our approach selects unlabeled samples that attain a high homogeneity while belonging to classes that are distant to the current set of known classes in the feature space. Then we use the high-quality pseudo-labels generated via clustering over these selected samples to improve the feature generalization iteratively. Experiments demonstrate that the proposed method consistently outperforms state of-the-art open-world semi-supervised learning methods and novel class discovery methods over nature species image retrieval and face verification benchmarks. Our training and inference code are released.